Welcome! This site was created to let you experience an amazing trip through my eyes. Come travel with me as I take Rick Steves' Best of Italy Tour!
A little background to get us acquainted.
This is my (Hi, I'm Chelsea) journal and photos from almost a month abroad in Europe with my Mom (Laura). We live, work, and play together, so I guess you could say we're pretty close!
Traveling abroad has been my mom's dream since she was a little girl. She studied art history extensively in college and thankfully has passed a bit of that appreciation on to me. She also took French and occasionally busts it out at home, to incomprehensive ears.
We were initially introduced to Rick Steves' tours through his shows on PBS. They fed Mom's desire to travel and after a couple years of talking about it, we booked our trip on my birthday in April. After much deliberation and mind-changing, we (mostly Mom) decided to take a tour of Italy; more specifically, the Best of Italy in 17 Days. Who could possibly go wrong with a tour titled "Best of…"?! Not knowing when or if we'd get back to Europe again after this trip, we (again, mostly mom) decided to extend our trip a bit on either end and include a bit of France. In addition to the 17-day tour, we decided to arrive in Milan a few days in advance and after the tour completed, to spend almost a week in Paris, with a brief stop in Annecy, France. The choice of where to go was totally up to Mom, because this trip really was for her, I was just happy to share the experience.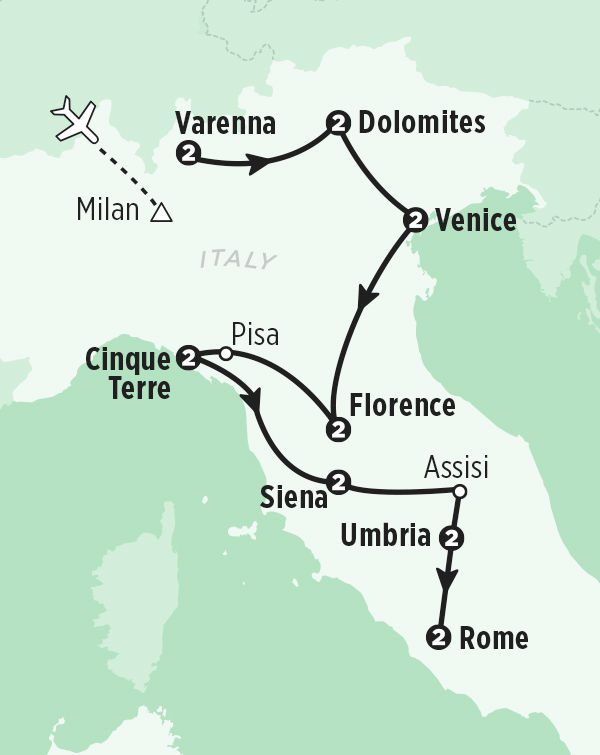 We live in the PNWet (😉) and I was more than happy to spend some quality time in the beautiful Mediterranean region. The 17 day tour covers most of the major tourist cites in Italy (Venice, Florence, Rome) but it also visits some smaller cities (Castelrotto, Pisa, Monterosso, Siena, Assisi, and Orvieto) and includes experiences that would be extremely hard to plan on your own (spoiler alert! Like dinner at a world renowned chefs house!).
Before booking the tour, we tossed around the idea of traveling on our own, but in reality, neither of us had the time to make all the necessary plans (Mom, especially, is not a fly-by-the-seat-of-your-pants kind of person). The planned-out, guided tour made everything SO much simpler. It was hard enough just deciding where and how long to stay in Paris!
For a few reasons, we decided on the tour dates of Sept 20-Oct 6, 2019. The biggest influence on our choice was probably the desire to avoid the worst of the crowds during peak travel months. Another reason was the weather. Given that Italy is generally much warmer than we're used to, we didn't want to be there in the sweltering summer heat. The cost of tours in the shoulder and off seasons is often cheaper than during peak. This wasn't a huge influence but a great benefit! Finally, late Sept/October tends to be when my job gets less busy as seasonals go back to school and campgrounds close which made it easier for my supervisors to survive without me for a month. 😉
I've been fortunate to have been abroad a few times before this trip, and each of those experiences have formed my view that we, as people, are all VERY similar. The world is a big place, but not so big that we can't identify with our neighbors on the other side of the world. Seeing different parts of the world broadens horizons, forms connections.
We all live in our own little bubbles, for the most part. I am certainly guilty. I live outside a tiny rural town and spend most of my time working, either in my garden or in the woods. I believe it is essential that we all break out of our little bubbles every once in a while. More often if you can. See what's out there, explore, challenge comfort zones.
I've shortened my original journal entries to just the highlights of the tour, which you will find under "The Tour". If at anytime you want more juicy details or want to read about our time in Milan and France, hop on over to "My Journal", where you'll find complete journal entries and more pictures!
With that, let's go! Which path do you want to take?